The App Smart Letter Board is an intelligent alphabet board for people who can't move and speak.
An eye control system is used here today. But it doesn't always work, on the outside for example. Normally, letter boards are used. However, these are very slow and are used very rarely, and those affected are condemned to silence.
This app is designed for this situation and offers fast communication. The app runs on all Android phones and tablets.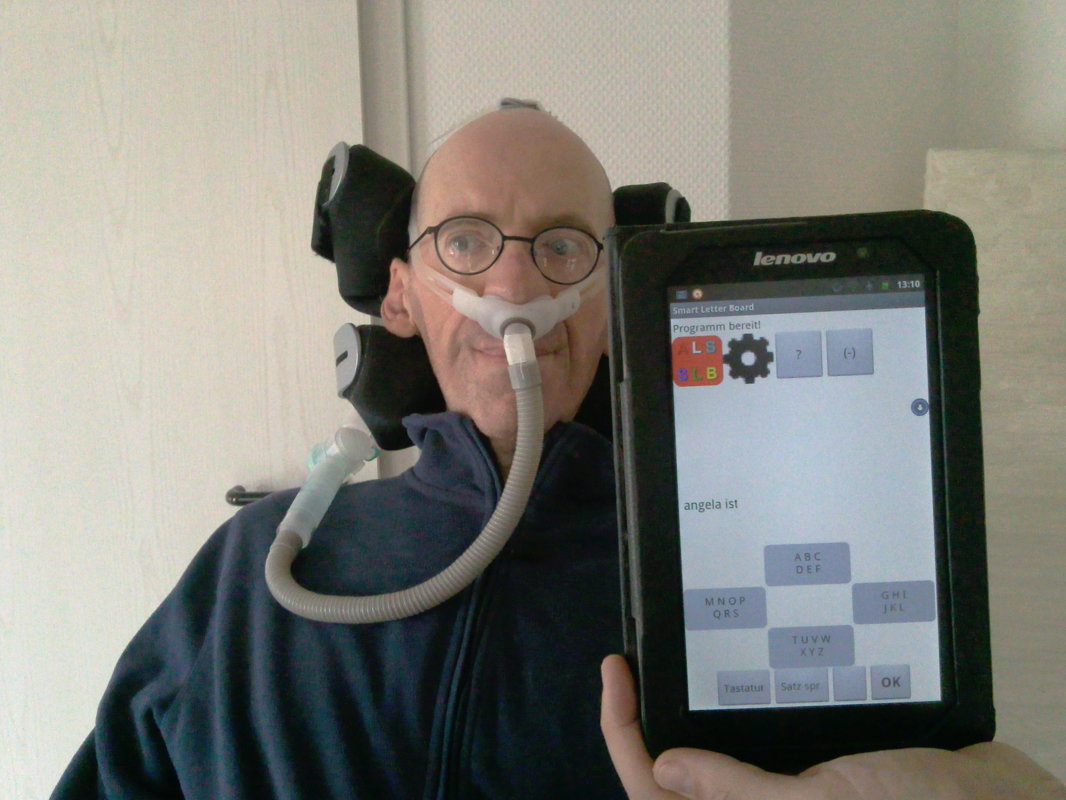 How it works.
After installing the app, you will need a printout of the Letter Board layout image for the back of the phone or tablet,but you can also simply place it where you can see it well.
This is available here for various devices.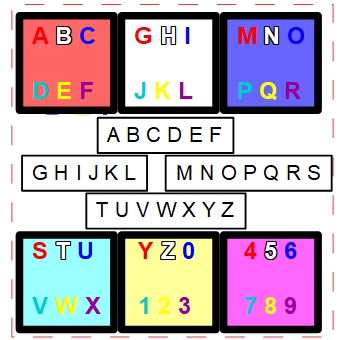 The letters are arranged in groups on the printout. The groups are arranged in the direction in which the speechless person must look, left, right, up or down, see picture the four black and white blocks in the middle. The operator can easily recognize this direction and must just press the corresponding button on the device. When the word is spelled to the end, the OK button is typed and the word or few other suggestions are displayed. The word is then automatically transferred to the sentence and can be read out by the device at the end.
There are already 2000 of the most common words stored on the device, which can be supplemented with personal words and especially names. If a word has not yet been saved, the device asks if you want to switch to the keyboard. This keyboard can also be found on the printout, the colorful boxes, see picture. Here, however, two viewing directions are necessary for one letter and the directions are now six different. This is like the Jason Becker method. If a word is entered correctly, it is automatically stored in the word memory and is then available for quick input.
At first glance this description seems complicated, but so far the program has been understandable enough by most testers even without operating instructions, because there are always messages and voice instructions in the program, so it is almost self-explanatory. Of course you can also find detailed operating instructions here.
If your device does not support voice output, you can install voices here for free.

If you want to be informed about updates, please contact me by mail.
Other languages are possible, please contact me by mail.
Latest news and comments also on Facebook.
About me and why
I have diagnosed amyotrophic lateral sclerosis (ALS) since 2009. Since 2014 I have been ventilated 24 hours a day with a mask and since 2013 I have been fed with a stomach tube. Since I am ventilated by a nasal mask during the day, I can hardly speak any more and this is usually no longer understandable even for my wife. I usually communicate with my eye control computer. But it doesn't always work and that's why I'm always looking for an alternative.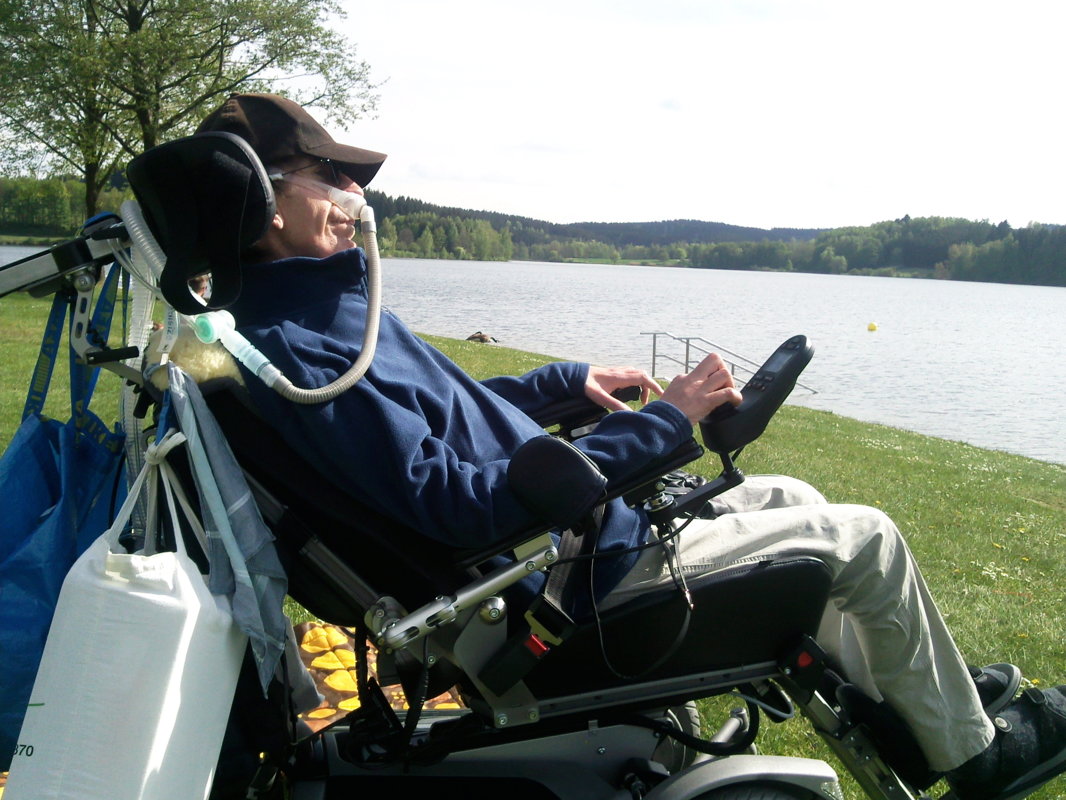 In January 2017 I had read a report that was supposed to enable communication via mobile phone with an app. This was announced with "eye control" via the integrated camera.
Then there was a long radio silence beyond the announced date. So I contacted the Microsoft programmers who programmed this app for Team Gleason.
I was put off for a near release date.
Nothing again for a long time.
So again a mail and there I came to the right people. I was told that the eye control is not realized because the quality of the recognition was simply too poor.
In my opinion, this is not so important and only hinders and is certainly not faster than today's solution.
Yes, there is now the app SwipeSpeak in the I Store, but only for the first test and only for the Apple devices, since almost everyone in the USA uses it. That's what the programmer told me. After all, at my request, a German version was promised, but has not yet been realized. As weeks passed after my mail again, my patience was at an end and in mid-February 2018 I decided to program an app for Android myself.
But since I'm not a programmer, but a machine engineer and the last time I programmed 30 years ago, it wasn't that easy. First a program for programming had to be found and a lot had happened in the 30 years. But the basics don't change fundamentally.
So I didn't have to start from scratch, but on two. Looking back today, the program would be written by a programmer in four weeks, but when you look at Microsoft's program, I've been a lot faster.
The program is in German, English and in several other languages. .